I have always been a frequent visitor of Cagayan de Oro City as many of my close friends live & work there. And finally on one of my visit, I got to experience that one thing that made this city popular and sought after by many travelers, foreign & domestic alike.
Cagayan de Oro (CDO) City as dubbed the "adventure capital" in the Philippines is home to some of the most striking and exciting whitewater rafting.
What is Whitewater rafting?
Whitewater Rafting is a recreational activity utilizing a raft to navigate a river or other bodies of water. This is usually done on whitewater or different degrees of rough water, in order to thrill and excite the raft passengers. The development of this activity as a leisure sport has become popular since the mid-1970s.
We reached CDO around 11am, had quick lunch just nearby the meeting area where our guide is scheduled to pick us up at 1pm. It is just at the heart of the city, where the famous "Night Café" happens.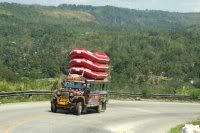 It was an hour ride (more or less) from the city to our jump-off point. But before going to our destination, we stopped at the Macahambus Adventure Park. The Macahambus Adventure Park is located at Barangay Lumbia, just a 25-minute ride from the city. To think about it, this park is petite in terms of area… not much animals nor flowers…nor kiddie slides or playground…. In short, it's not your typical park! The Macahambus Gorge Adventure Park caters to thrill-seekers who are nuts for adventure!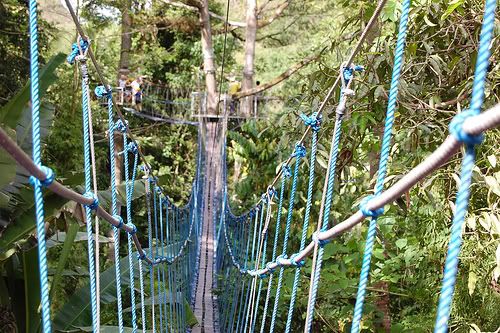 The
park has a
Sky Bridge, which runs for 123 meters across and a height 150 meters, surely to make you feel cold with knees shaking…that's at least what I felt making my first 5 steps across the bridge.
Looking down the gorge from the Sky Bridge, I felt
in between fear & excitement. It was unexplainable, almost like I wanted to throw up!? (eiiwz
)…
One thing strange also, is that, malamig naman yung hangin dun sa park, kasi nga highland sya, pero pinagpawisan talaga ako sobrah! Ha ha ha! Also, what's so cool about the challenge is that you won't have a choice but to finish the entire obstacle. I mean, if you've made it to 110 meters with all the knees-shaking, almost throw-up state, you might as well finish it than to walk all the way back, right? Ano, bali? As for me? I did what I have to do, despite my almost throw-up state, I walked through it all with dignity & pride! LOL!
So moving on, after you walked through all the 123-m Sky Bridge, take a deep breath and enjoy the slide-for-life, a 120-m Zip Line at a height of 150 feet. It was quite short, but enjoyable indeed! Just enough to relieve you from the almost throw-up Sky Bridge…
If you're looking for more adventure, you can also try rappelling down the gorge itself. It's a bit tiring, but hey, the enjoyment is immeasurable!
After that unexplainable experience, we proceeded with our mission – conquer the wild white waters!
There are several categories for the rafting, depending on your capabilities & experience. For us, we just took the Class 2 – 3½ (for beginners), which run for 3 hours, stretching about 12.34 km and features 14 rapids. Not bad.
So, we got few instructions about the basics of the sport, some safety precautions and then off we go, bumpin' the rapids! Yeaaah! It was one hecl of a ride! For some reasons I knew this was a risky sport but heck!? I did not see any face frownin' as we bump and paddle our way out through all 14 rapids. Lahat kita yung ngipin, grabeh! By the way, you can pay the guides additional bucks for them to take your pictures while rafting. It was also amusing to hear that some the rapids have names,
each relating to a hilarious incident that happened to a celebrity.

We finished rafting about 3 1/2 hours. The end point was a restaurant where we had our snack and took a little shower and change up. We headed back downtown at around 5pm. It was an awesome day indeed! And we are coming back! Definitely.

If you're planning to visit CDO, please check out this sites for more info:
Macahambus Adventure Park
White Water Rafting Cagayan De Oro
KAGAY-Cagayan de Oro's Premiere Whitewater Rafting Voyages